Xtreme Seeds - Xtreme Kush (fem.)
extr5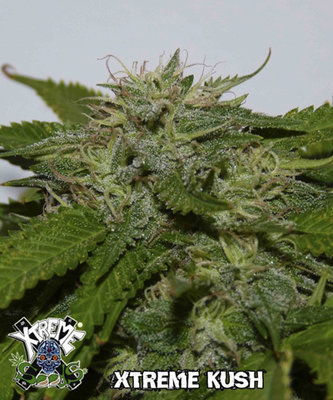 Феминизированные семена каннабиса Xtreme Seeds
It was thanks to a selection made by the team of Xtreme Seeds Cannabis Co. starting from seeds selected from the extinct Old Dream Genetics, a seed bank craftsman andthe result of collaboration between great Cannabis Growers. Both parents of thislegendary crossing were obtained from the first auction of genetic inter-cannabis forumsaround the year 2006 and quickly became obvious the quality of genetics and its greathybrid vigor.
From the beginning we were surprised by their great medical power, vigor, great production and balanced flavor coffee and fruity Bubba Kush. All team Xtreme Seeds CC, we consider the plant "almost" perfect in its balance of great indica with a part ofsativa what makes it probably one of the best genetics for medical use at the time.Everyone will know you are there if you go with your Xtreme Kush. Families OG be thevarieties most impact will occur in the Spanish and European cannabis world in the coming years and we are working on producing this variety as seed regularly (coming soon).
Never forget your first Xtreme Kush because it is a major producer, due to the excellentbranching form in flowering large and very hard buds as golf balls fat inheritance from hisparental Bubba Kush. Unforgettable for its coffee and slightly spicy taste buds, reminiscent of Thai legacy that brings the Og San Fernando Valley, and especially by his strong power not suitable for beginners.
Awards:
1st Award in "hash" category in the growers tasting in X Cannabis Parade 2012
Феминизированные:+
Соотношение Indica / Sativa:90% Indica / 20% Sativa
Урожайность:до 600 грамм с метра квадратного (indoor) / до 1000 грамм с куста (outdoor)
Генетика:OG Kush SVF x Bubba Kush pre '98
Эффект:очень сильный, наркотический, медицинский
Период цветения при искусственном выращивании под лампами (indoor):70 дней
Период сбора урожая при выращивании на открытом воздухе под солнцем (outdoor):конец октября
5 fem. (0)