Xtreme Seeds - OG Kush Express (fem.)
extr2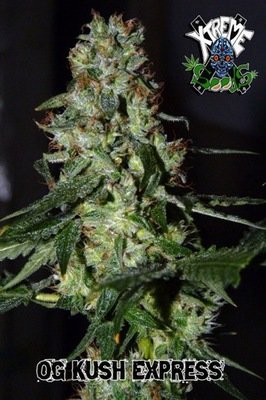 Феминизированные семена каннабиса Xtreme Seeds
Og Kush Express is our regular and feminized version of the OG Kush San Fernando Valley from california. The OG Kush SFV is one of the most potent plants that have had the pleasure of smoking, as well as having a pronounced flavor particularly sought after by more experienced growers. The selected female was crossed with a male Afghani very stable and productive for generations seeking to maintain the flavor and original powerSFV OG Kush.
The OG Kush Express is also much faster flowering and more productivetheir parental finishing his explosive bloom in about 50 days indoors and in late September / early October outdoors. It is a plant that grows with great vigor and great structure that will allow later produce big buds covered by abundant resin. The distance between nodes is medium with a final heightis not very large, making it good for both crops indoor or outdoor. Some specimens show bluish / purple and one of its features are the tips of the leaves with very sharp serrated.
It's so quick to get into bloom in some cases marked sex to 18 hours if they note that the root mass has occupied most of the pot crop. With OG KushExpress is possible to harvest winter / spring outside as if it wereautoflowering. If planted in February (warmer areas as the Spanish Levanteor in greenhouses), will end its flowering in April with a size of about 50/60cms. If you want to harvest in September / October is best sowing from April and will be when they reach their full potential, both in growth andproduction.
Taste of the OG Kush Express is a delicacy for Cannabis Growers. They keep the original nuances SFV but brings a more sweet (not fruity).Besides its great taste, the OG Kush Express stands out for its strong effect. Very narcotic and relaxing, this plant has been used as medicine formost therapeutic of all California consumers. Indicated for insomnia, stressor chronic pain, is also a good appetite stimulant. A magnificent plant that will appeal to not know what you have at hand and will not disappoint those who tested SFV.
Феминизированные:+
Соотношение Indica / Sativa:80/20
Урожайность:до 600 грамм с метра квадратного (indoor) / 800 грамм с куста (outdoor)
Генетика:Og Kush San Fernando Valley X HashPlant Tulipán
Эффект:очень сильный, расслабляющий, медицинский
Период цветения при искусственном выращивании под лампами (indoor):50 дней
Период сбора урожая при выращивании на открытом воздухе под солнцем (outdoor):конец сентября
5 fem. (0)