Xtreme Seeds - M.B.C '99 (fem.)
extr4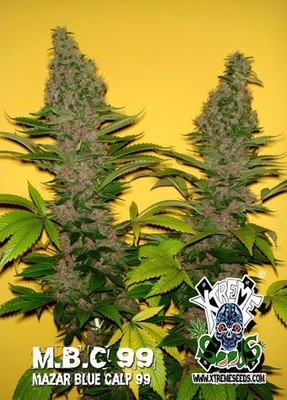 Феминизированные семена каннабиса Xtreme Seeds
Many things in life happen to you unsought. This same thing happened with Mazar Blue Calp '99. This phenotype purple Mazar came to us by chance. Preserved since 1999 many have tried to find it unsuccessfully. MBC '99 isone of the most beautiful plants we have had the pleasure to grow. Fromsmall grows vigorously and green colors with hues purple. It is a plant with amedium internodal distance and excellent lateral and internal branch. The leaves are medium size with rounded folioles reminding us that we have a100% indica plant. The growing cycle of the plant should be about 20 days to order the harvest of about 70/90 cms in height, ideal for growing indoors.
The flowering of MBC 99 is lush, forming large buds at the apex both mainand sides. Furthermore completely fill of medium / large size budsthroughout the plant, so that the final production is increased substantially. This is a great producer in both indoor and outdoor crops. In just about 50 days totally get tight buds covered by abundant resin and colors ranging from shades of purple, blue, almost completely black if the temperature is not very high. If this strain were intrigued by his temper and beauty, was no less taste and effect.
Mazar Blue Calp '99 has a very marked taste very special and rare. Its flavor is sweet (not fruity), with a strong touch of coffee and damp earth, a real mash for those who intend to leave the commercial flavors. The effectis powerful, as good indica. Narcotics and very relaxed, not a plant forsmoking at any time of day. For their high concentration of THC and CBDand especially CBN, is a very suitable choice for medical uses. Testedsuccessfully in treatments for insomnia, anxiety and fibromyalgia.
Феминизированные:+
Соотношение Indica / Sativa:100% индика
Урожайность:600 грамм с квадратного метра (лампы 600W) (indoor) / 800 грамм с куста (outdoor)
Генетика:M.B.C 99 x M.B.C 99
Эффект:высокий, сильный
Период цветения при искусственном выращивании под лампами (indoor):50 дней
Период сбора урожая при выращивании на открытом воздухе под солнцем (outdoor):конец сентября
Букет ароматов:сладкий с сильным привкусом кофе и земельным оттенком
1 fem. (0)
3 fem. (0)
5 fem. (0)