Silent Seeds (ex Dinafem) - Zkittlez 2.0 (fem.)
08455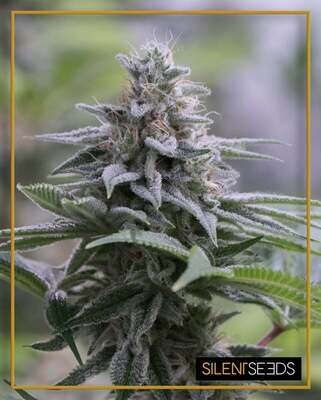 Silent Seeds (ex Dinafem)
Zkittlez 2.0
Zkittlez 2.0 is a premium feminised Indica-dominant collection cannabis seed. The qualities are numerous, but her real added value is her aromatic spectrum. It reflects a rainbow of smells and flavours! Zkittlez 2.0 is a colourful cannabis strain that leaves no one indifferent, thanks to her delicious, fresh and sweet tropical cocktail scent.
Structural development:
Zkittlez 2.0 is a cannabis strain that is sure to turn heads. All fans of the famous Zkittlez Originale, created by Terphogz (Tony Mendo) and Greenfieldz, will discover a "premium evolution" of the highest quality. Zkittlez 2.0 is a cannabis hybrid that retains all the charm of Zkittlez Original. However, we wanted to give this new version more richness and aromatic complexity, as well as more robustness in the vegetative structure. Zkittlez 2.0 collection cannabis seeds produce plants of: - medium to large size, - with a large distance between the nodes; - with lots of secondary branching. The exotic beauty will reveal some of her olfactory alchemy in the first weeks of flowering. So Tropical !
Yield:
Zkittlez 2.0 is a cannabis plant that proves to be a real cannabic delight, reminding you of the most beautiful sandy beaches as well as the juiciest and most exotic fresh fruits of an island paradise, that's it, but not only... Because Zkittlez 2.0 cannabis seeds will also offer you a generous harvest of compact flowers with a rather round shape and which are uniformly of a good density (up to 500 g/m2 indoors and up to 1300 g/plant outdoors).
Aromas and flavours:
Zkittlez 2.0 collection cannabis seeds stand out from the crowd. They have an intense, complex, fruity and sweet aroma profile. A slightly bitter and tropical flavour fills your mouth when inhaled and lingers on the palate. Zkittlez 2.0 is a cannabis strain that leaves a lasting impression. The rich terpene profile obtained from the Zkittlez 2.0 collection cannabis seed expresses a strong tropical confectionery intensity. The resulting product is a AAA+ quality standard. Ze Candy Flavery!
Effects:
Zkittlez 2.0 is a cannabis cultivar that will give you an overall positive experience. The effect will allow you to spend very pleasant moments, feeling a certain joy and a sweet inner peace. It is a cannabis variety that will make you feel good. Although it is an Indica-dominant hybrid, the physical and mental sensations are perfectly balanced. The Zkittlez 2.0 collection cannabis seed allows you to experience harmonious moments of happiness whenever you feel like it.
Growing tips:
Zkittlez 2.0 is an easy to grow cannabis hybrid that only needs moderate fertilisation and a limited indoor growing period of 3 weeks. When growing Zkittlez 2.0 cannabis seeds, it is also necessary to use techniques such as SOG, SCROG, Supercropping or Lollypoping to significantly improve production. Zkittlez 2.0 is a medium-hardy cannabis plant, so it is best to avoid high humidity and cold temperatures.
Феминизированные:fem.
Соотношение Indica / Sativa:65% Indica / 35% Sativa
THC:14-20%
CBD:низкий уровень CBD
Генетика:White Widow x White Widow
Период цветения при искусственном выращивании под лампами (indoor):55 дней
Период сбора урожая при выращивании на открытом воздухе под солнцем (outdoor):начало - середина Октября
Высота при уличном выращивании (см.):2,5 метра
Урожайность Indoor:550 грамм с квадратного метра при лампах HPS 600W
Урожайность Outdoor:900 грамм с куста
Выращивание:Indoor, Outdoor
3 fem. (0)
5 fem. (0)
10 fem. (0)