Silent Seeds (ex Dinafem) - White Widow (fem.)
08454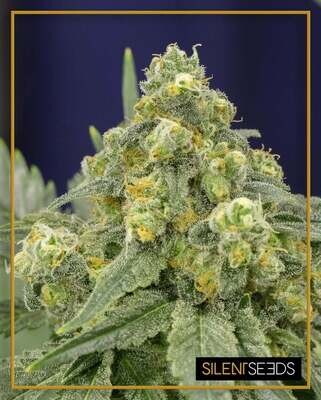 Silent Seeds (ex Dinafem)
White Widow
White Widow is a premium feminised Indica-dominant collector cannabis seed. It first appeared in the mid-1990s in Holland, during the golden age of sweet, beautiful Amsterdam. Anyone who was lucky enough to frequent the city's most prestigious coffee shops at that time still has fond memories of the very famous and fiery White Widow. This legendary Indica is, as you may have guessed, best known for the exhaustive power of her effects. Her evocative name reflects the density of resin trichomes she produces, which cover the plant tissue with a thick white layer.
Structural development:
White Widow is a landmark cannabis strain. She is a historical Indica plant in its purest representation, with the following characteristics: - a compact vegetative structure; - a short internodal distance; - broad leaves from the base of the different leaflets; - small, shiny, coloured leaflets (of a green spectrum) which vary in intensity according to the area; - well-marked tips; - a fairly round general appearance. When growing White Widow collection cannabis seeds, you'll recognise her by her 'Christmas tree' appearance, with a dominant main stem, accompanied by numerous secondary branches. Outdoors, she is a cannabis hybrid that can produce plants over 2.5 metres tall, with production levels that are very attractive for the class. A safe bet.
Yield:
White Widow collection Cannabis Seeds provide an excellent level of production for any grower oriented towards the production of legal medical cannabis. It is important to note that White Widow collection cannabis seeds will give you abundant harvests of compact, heavy flowers (up to 550 g/m2 indoors and up to 900 g/plant outdoors). But her most important quality, which gives her its prestige, lies elsewhere. The added value of this plant is in the extraction of its resin: she contains an impressive amount of resin for a cannabis plant.
Aromas and flavours:
White Widow is a cannabis cultivar that has retained all her old-fashioned charm, thanks to her intensely fresh floral scent. The taste is quite different, with sweet and sour notes, on a floral background, slightly different from the aroma, with subtle fruity notes. White Widow is a collectible cannabis seed that is still very much up to date among the "premium classics".
Effects:
White Widow is a cannabis hybrid that holds legendary status in the cannabis world for her soothing and therapeutic properties. White Widow collection cannabis seeds produce a powerful, characteristic Indica effect that will invite you to a deep and long-lasting physical relaxation. A very good alternative to the medicine box for some aches and pains!
Growing tips:
White Widow is a wonderful cannabis plant, which offers premium results both indoors and outdoors. It is accessible to everyone, as it is very easy to grow. The most important criterion to pay attention to when growing indoors is the humidity level. It is essential to control it and keep it at a level of 55-60% maximum during the last phase of flowering. The aim is to avoid problems with mould (botrytis). During cultivation, White Widow collection cannabis seeds need fairly moderate fertilisation, as is the case with most Indica strains. Outdoors, she is best grown in a rather warm, sunny and dry climate.
Феминизированные:fem.
Соотношение Indica / Sativa:65% Indica / 35% Sativa
THC:14-20%
CBD:низкий уровень CBD
Генетика:White Widow x White Widow
Период цветения при искусственном выращивании под лампами (indoor):55 дней
Период сбора урожая при выращивании на открытом воздухе под солнцем (outdoor):начало - середина Октября
Высота при уличном выращивании (см.):2,5 метра
Урожайность Indoor:550 грамм с квадратного метра при лампах HPS 600W
Урожайность Outdoor:900 грамм с куста
Выращивание:Indoor, Outdoor
3 fem. (0)
5 fem. (0)
10 fem. (0)