Silent Seeds (ex Dinafem) - Watermelon Runtz (fem.)
08453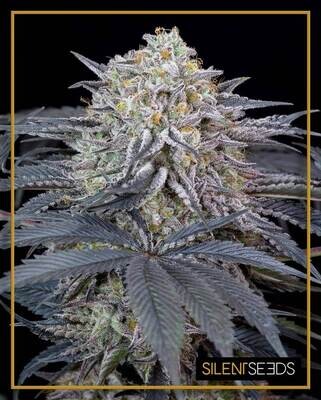 Silent Seeds (ex Dinafem)
Watermelon Runtz
Watermelon Runtz is a premium feminised Indica-dominant collection cannabis seed. The trade name reflects the alchemy conveyed by the richness and intensity of her exotic taste qualities. Watermelon Runtz offers sensations equivalent to a fresh, fruity and creamy tropical smoothie. The sweet, gourmet cannabic flavours will awaken all your senses.
Structural development:
Watermelon Runtz is a cannabis strain that develops like the vast majority of modern hybrids: - a rather slender general appearance; - robustness; - good vigour. When cultivated, Watermelon Runtz cannabis seeds produce plants with many secondary branches. It is necessary to prune them with a suitable method, in order to obtain a homogeneous and abundant floral production. Watermelon Runtz is a cannabis plant that expresses the characteristics of a premium genetic line. Her ancestors are none other than Watermelon Zkittlez and the famous Runtz, two of the most prestigious cannabis cultivars in the world.
Yield:
Watermelon Runtz is a cannabis hybrid that offers any legal commercial grower the opportunity to obtain abundant harvests of very dense (up to 550 g/m2 indoors and up to 1400 g/plant outdoors) ball-shaped flowers. The plants are covered with resin trichomes with a tropical scent. The Watermelon Runtz collection cannabis seeds give rise to a cultivar that proves to be a premium production option, as she ensures a high production level and AAA+ quality standard.
Aromas and flavours:
Watermelon Runtz is a cannabis plant that will quickly become one of your top 5 favourite strains! She is simply the best representation of what we can now call exceptional cannabis! Watermelon Runtz is a collection cannabis seed that produces flowers with a rich and fine aroma profile. Her strong notes of juicy, freshly cut watermelon are accompanied by strong nuances of petrol, ripe tropical fruit and cream pie.
Effects:
Watermelon Runtz knows how to put beautiful colours in your body and mind. Watermelon Runtz collection cannabis seed offers a harmonious and balanced feeling, because she first animates you with a pleasant positive and euphoric energy. Afterwards, she slowly evolves into a long-lasting, relaxing physical experience.
Growing tips:
Watermelon Runtz is a cannabis cultivar accessible to most people, because she is easy to grow. She only needs moderate fertilisation. However, it is important to use a suitable cultivation method, such as FIM, LST, Supercropping or Lollypopping, in order to promote a high yield. It is also necessary to limit the growing period of plants obtained from Watermelon Runtz cannabis seeds to a maximum of 3 weeks in order to control height.
Феминизированные:fem.
Соотношение Indica / Sativa:75% Indica / 25% Sativa
THC:18-22%
CBD:<2%
Генетика:Watermelon Zkittlez x Runtz
Период цветения при искусственном выращивании под лампами (indoor):58-65 дней
Период сбора урожая при выращивании на открытом воздухе под солнцем (outdoor):начало - середина Октября
Высота при уличном выращивании (см.):2,5-3 метра
Урожайность Indoor:450-500 грамм с квадратного метра при лампах HPS 600W
Урожайность Outdoor:1200-1400 грамм с куста
Выращивание:Indoor, Outdoor
3 fem. (0)
5 fem. (0)
10 fem. (0)