Silent Seeds (ex Dinafem) - Original Amnesia (fem.)
08451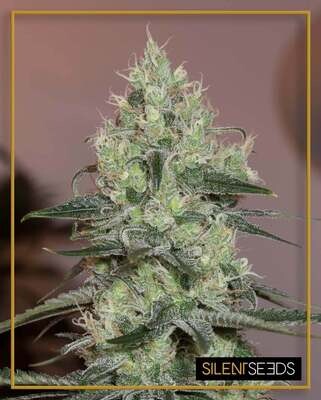 Silent Seeds (ex Dinafem)
Original Amnesia
Original Amnesia is a collectible premium feminised Sativa dominant cannabis seed. She is none other than the iconic strain that directly contributed to the noble reputation of Amsterdam coffee shops in the early 2000s. Today, she is a great classic of recent cannabis history that we wanted to immortalise as part of our catalogue. The reason? She is the only photoperiod-dependent and ultra-fast flowering Sativa hybrid on the market that combines so many associated qualities.
Structural development:
Original Amnesia is a cannabis strain that represents the ultimate dream for every Sativa lover. Thanks to its fast flowering and superior yields typical of Indica-dominant strains. Original Amnesia is a cannabis plant that develops in the following way: - a structure whose size is rather contained; - a medium distance between the nodes; - leaves with broad, long leaflets. Original Amnesia collection cannabis seeds produce plants that are only slightly taller than most Indica hybrids, giving her a major advantage for indoor viability. Original Amnesia is a collectible cannabis seed that perfectly merges the authentic traits of an Indica and a Sativa. The result is a cannabis cultivar with exceptional qualities. She is easy to grow, offers a very high yield, and is resistant to many pests (moulds and insects).
Yield:
Original Amnesia is a cannabis hybrid with the promise of a great performer. She is truly the only Sativa-dominant cannabis seed on the market capable of offering such a high production level indoors, while having such a compact plant size/production ratio (up to 600 g/m2). Outdoors, it will also convince you, offering abundant harvests of elongated, compact, heavy flowers generously covered with resin trichomes (up to 1200 g/plant). The quality level is supreme, even after 20 years! All these characteristics make her a cannabis variety that is still relevant today, hence her well-deserved title of cannabic icon.
Aromas and flavours:
Original Amnesia is a cannabis plant that offers a unique aromatic and taste experience. Fresh and delicate notes of citrus, Haze, cedar, incense and spices are present. It is a cannabis plant that offers a complex and subtle sensory combination. When growing Original Amnesia collection cannabis seeds, a certain singular alchemy will thrill true Sativa fans, as well as the most discerning palates.
Effects:
Original Amnesia is a cannabis cultivar that produces a very powerful, energizing and euphoric Sativa effect, like a long-lasting cerebral climax. Afterwards, the effects evolve into a feeling of overall body relaxation, inviting you to a pleasant moment of recuperative rest. The premium sensations obtained from Original Amnesia collection cannabis seeds are comparable to those of the best Sativas, thanks to her intense "elevating high". With Original Amnesia, the Moon is closer than you think...
Growing tips:
Original Amnesia is a cannabis strain that offers a distinct and lasting smile to any legal cannabis producer. Indeed, it is an excellent, profitable and reliable strain option. In order to optimise your results, we advise you to limit its growth period to 3 weeks indoors and to give it a moderate fertilisation. For the rest, the numerous arguments of this very charming Sativa will seduce you.
Феминизированные:fem.
Соотношение Indica / Sativa:30% Indica / 70% Sativa
THC:15-23%
CBD:0,01-0,2%
Генетика:Original Amnesia x Original Amnesia
Период цветения при искусственном выращивании под лампами (indoor):65 дней
Период сбора урожая при выращивании на открытом воздухе под солнцем (outdoor):середина - конец Октября
Высота при уличном выращивании (см.):3,5 метра
Урожайность Indoor:600 грамм с квадратного метра при лампах HPS 600W
Урожайность Outdoor:1200 грамм с куста
Выращивание:Indoor, Outdoor
3 fem. (0)
5 fem. (0)
10 fem. (0)