Silent Seeds (ex Dinafem) - OG Kush (fem.)
08450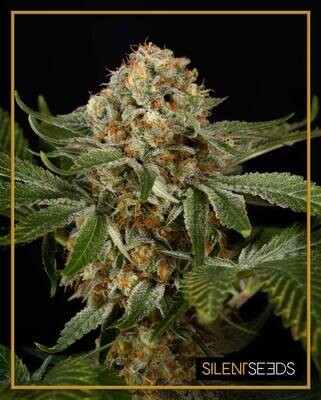 Silent Seeds (ex Dinafem)
OG Kush
OG Kush is a premium feminised Indica-dominant collection cannabis seed. It is a true Californian reference, as it has been a hit in most dispensaries, but also with many U.S. artists, for almost a decade. It has earned its credentials thanks to its aromatic profile. It is unique, delicious, intense, complex, contrasting, and akin to a clever combination of gasoline and lemon. Original Flavour...
Structural development:
OG Kush is a mythical cannabis strain for the American cannabis community, whose abbreviation of the two letters OG simply stands for "Ocean Grown". It is a cannabis cultivar with a distinctive character and expression, as although it is an Indica-dominant hybrid, it produces fairly slender plants with wide node spacing and broad leaflets. Its other features are: - flowers in the shape of a golf ball; - a beautiful lime colouring; - very swollen bulbs; - a dense and fragrant flowering. OG Kush collection cannabis seeds will give you good results with ease. All you need to know is how to prune the many branches with a suitable method (SOG, SCROG, FIM, Supercropping, Lollypopping) to prepare the structure for a good harvest.
Yield:
OG Kush cannabis seeds are as qualitative as they are productive. By following our advice on pruning techniques, you can easily achieve a high yield indoors (up to 550 g/m2) and outdoors (up to 1100 g/plant). Outdoors, Californians get real cannabis trees. The OG Kush collection cannabis seed has a huge productivity for experienced growers.
Aromas and flavours:
It's no coincidence that the OG Kush cannabis plant has created a revolution in California over the past decade. Indeed, it is thanks to its penetrating scent, which combines intense notes of petrol and lime. For those who can legally grow OG Kush collection cannabis seed, it is a real treat for the senses. The smell and taste reflect an identical and delicious aroma profile. OG Kush coats your palate with a very pleasant and long lasting flavour. And that's the secret of OG Kush's alchemy, because it is so different and so delicious that it will enchant you from the first inhale.
Effects:
OG Kush is a cannabis strain with an extreme level of potency. Most of the time, the THC content is between 24 and 26%, according to numerous samples analysed in laboratories by licensed growers. The finished product, obtained from the OG Kush cannabis seed collection, gives a quick effect, such as a powerful, long-lasting physical and mental balance. It even induces a joyful and very pleasant trance-like state. Discover a premium cannabis plant with a myriad of facets...
Growing tips:
OG Kush shows good vigour and rapid flowering in only 8-9 weeks. In addition, she shows a good level of resistance. It is also an easy to grow cannabis strain. When growing OG Kush collection cannabis seeds, it is necessary to give it a moderate fertilisation. Outdoor cannabis plants tend to be larger in size. So remember to prepare a good support system (nets on 2-3 levels).
Феминизированные:fem.
Соотношение Indica / Sativa:75% Indica / 25% Sativa
THC:22-26%
CBD:низкий уровень CBD
Генетика:Lemon Thai X ChemDawg
Период цветения при искусственном выращивании под лампами (indoor):55 дней
Период сбора урожая при выращивании на открытом воздухе под солнцем (outdoor):начало - середина Октября
Высота при уличном выращивании (см.):3 метра
Урожайность Indoor:550 грамм с квадратного метра при лампах HPS 600W
Урожайность Outdoor:1100 грамм с куста
Выращивание:Indoor, Outdoor
3 fem. (0)
5 fem. (0)
10 fem. (0)