Silent Seeds (ex Dinafem) - Gorilla Frost (fem.)
08443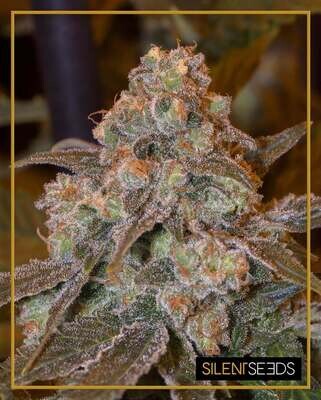 Silent Seeds (ex Dinafem)
Gorilla Frost
Gorilla Frost is a premium feminised Indica-dominant collection cannabis seed. She has a deliciously fresh, citrusy and floral aroma profile with a high potency of effect (28% THC). She is named after the word 'frost', and this cannabis strain reflects this added value perfectly. Indeed, she produces a very abundant amount of resin trichomes.
Structural development:
Gorilla Frost is a cannabis strain whose original genetic lineage carries a certain undeniable prestige. She comes from the backcross (Bx S1) between Chocolate Diesel, Chem Sister, Sour Dub (Gorilla Glue #4) and the fabulous Gorilla Glue #5. The result is clear: Gorilla Frost collection cannabis seeds produce plants: - medium to large; - vigorous; - with a medium distance between the nodes; - leaves with a nice lime colour. Admittedly, she looks more like a Sativa than an Indica hybrid, but her powerful sedative effect quickly demonstrates her AAA+ quality level, typical of the category she comes from. The impressive resin production of this cannabis plant is well underway: she is completely covered with a white coat of trichomes as she approaches the end of flowering.
Yield:
Gorilla Frost is a high-yielding cannabis plant (up to 500 g/m2 indoors and up to 1000 g/plant outdoors). She is especially appreciated for her very high resin yield, which is impressively dense throughout the plant tissue, even in parts that normally contain little or no resin.
Aromas and flavours:
Gorilla Frost is a cannabis hybrid with an incredibly complex, contrasting and intense aroma and taste spectrum. The result of a cross between Diesel and Chem, you'll find strong petrol notes mixed with an earthy, acidic and citrusy taste, courtesy of Sour Dubb. The Gorilla Frost cannabis seed offers a very special tasting experience, as the mouthfeel surprises even the most demanding cannabis gourmets. She is one of those must-have cannabis strains that Americans call "Dank", due to her gourmet-like organoleptic properties.
Effects:
Gorilla Frost collection cannabis seeds produce a very strong and long lasting Indica effect. Gorilla Frost is a cannabis strain that will delight any Indica lover, as it provides a strong relaxing body sensation. She is a great way to unwind after a long, hard day at work. One of the best Indica hybrids currently produced.
Growing tips:
Gorilla Frost is a unique cannabis cultivar, but one that needs to be cared for delicately. This is the reason why Gorilla Frost is a cannabis plant that prefers to be fertilized moderately, which is reflected in the quality of her scent and taste. Gorilla Frost is a cannabis seed that does not like high humidity, as her resistance to mould is quite low.
Феминизированные:fem.
Соотношение Indica / Sativa:75% Indica / 25% Sativa
THC:17-22%
CBD:низкий уровень CBD
Генетика:Gorilla Glue #4 x Gorilla Glue #5
Период цветения при искусственном выращивании под лампами (indoor):58-63 дня
Период сбора урожая при выращивании на открытом воздухе под солнцем (outdoor):середина Октября
Высота при уличном выращивании (см.):3 метра
Урожайность Indoor:500 грамм с квадратного метра при лампах HPS 600W
Урожайность Outdoor:1000 грамм с куста
Выращивание:Indoor, Outdoor
3 fem. (0)
5 fem. (0)
10 fem. (0)