Silent Seeds (ex Dinafem) - Critical+ 2.0 (fem.)
08441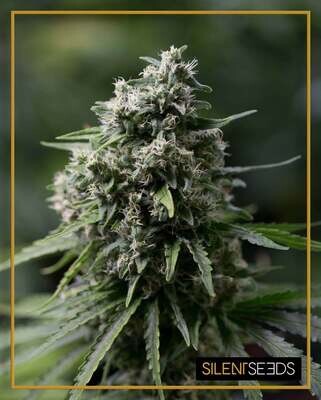 Silent Seeds (ex Dinafem)
Critical+ 2.0
Critical + 2.0 is a premium feminised Indica-dominant collectible cannabis seed. It is the improved evolution of the famous cannabis icon Critical +. This new version features a better aroma, an equally abundant production as before, but also a better resistance to various pests, as well as to humidity and cold.
Structural development:
Critical + 2.0 is a superb cannabis plant, full of vigour, with leaves quite similar to many Sativa-dominant strains, although it is an Indica-dominant hybrid. Growing the Critical + 2.0 collection cannabis seeds, we have observed a nice stability in the plant population. The plants develop with homogeneity, as this cannabis variety has its origins in the "Skunk" lineage. It develops in a similar way to Critical +, with a large distance between the nodes. It also has a tendency to grow very tall if given a vegetative period longer than 3 weeks. The concrete and certified added values of the Critical + 2.0 cannabis hybrid are most definitely: - its scent, which is even more intense than before; - its very high production; - its speed of flowering; - its superior level of resistance to insects and fungi.
Yield:
Critical + 2.0 is a cannabis cultivar with outstanding production potential, which made the first version (C+) such a legendary success. Critical + 2.0 is a cannabis hybrid that has set the industry standard in this area for many years. We are proud to be the only collection cannabis seed bank on the market that can still guarantee the original version! Critical + 2.0 is a collector's cannabis seed that offers the best expectations of any grower, with a production of up to 700 g/m2 indoors and up to 1300 g/plant outdoors.
Aromas and flavours:
Critical + 2.0 also offers intense, deep, complex and subtle aroma and taste sensations. It's easy enough to guess its presence in a cannabis garden, as its deliciously fresh and sweet scent, with rich notes of pine, lemon and spice, is simply unique. The Critical + 2.0 collection cannabis seed is a global icon that will certainly be talked about for a long time to come!
Effects:
Critical + 2.0 is already well known for its powerful, relaxing and long-lasting effect. It is a cannabis strain that produces mainly physical sensations, promoting optimal relaxation of all the muscles in your body as well as your mind. Once you have made your cultivation with Critical + 2.0 collection cannabis seeds, you will realise that it is the perfect ally for your "off" moments, whatever your desires.
Growing tips:
Critical + 2.0 is a cannabis strain that shows great vigour during its growth. Like Critical +, we recommend limiting the vegetative period to 3 weeks indoors. When growing the Critical + 2.0 cannabis hybrid, we recommend the use of stakes during flowering. We recommend moderate fertilisation, as with most hybrids from "Skunk" strains. Critical + 2.0 is a collectible cannabis seed that offers optimal results using growing methods such as SOG (Sea Of Green), SCROG (Screen Of Green), FIM (Fuck I Missed), Supercropping or Lollypopping.
Феминизированные:fem.
Соотношение Indica / Sativa:70% Indica / 30% Sativa
THC:17-22%
CBD:0,01-0,2%
Генетика:Critical + x Critical +
Период цветения при искусственном выращивании под лампами (indoor):45-50 дней
Период сбора урожая при выращивании на открытом воздухе под солнцем (outdoor):конец Сентября
Высота при уличном выращивании (см.):2,5 метра
Урожайность Indoor:700 грамм с квадратного метра при лампах HPS 600W
Урожайность Outdoor:900-1300 грамм с куста
Выращивание:Indoor, Outdoor
3 fem. (0)
5 fem. (0)
10 fem. (0)