Silent Seeds (ex Dinafem) - Critical+ 2.0 Auto (auto/fem.)
08442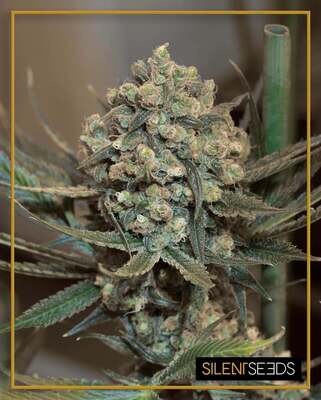 Silent Seeds (ex Dinafem)
Critical+ 2.0 Auto
Critical + 2.0 Auto is a premium feminised Indica-dominant automatic collection cannabis seed. The performance level for the category is very high. This autoflowering hybrid has comprehensive general characteristics, but it is the quality of the flowers and the high production that have given her fame. Many growers are still very fond of it. In short, it is an automatic version that lives up to the prestigious Critical + 2.0.
Yield:
Critical + 2.0 Auto collection cannabis seeds have a lot to live up to in this area, as they will offer superb and abundant production. At harvest, legally established cannabis growers will discover large, compact flowers (up to 500 g/m2 indoors and up to 300 g/plant outdoors) covered in resin. Furthermore, this is a cannabis hybrid where you will see the same quality of the finished product, no matter which part of the plant is involved.
Aromas and flavours:
Critical + 2.0 Auto is a cannabis plant that will give you an aroma profile that most of you are already familiar with. She has a strong skunk-like aroma with fresh lemon notes that are strong and long lasting. The Critical + 2.0 Auto collection cannabis seed allows you to enjoy delicious organoleptic qualities that are tonic and harmonious on the palate.
Effects:
Critical + 2.0 Auto is a cannabis cultivar, which literally follows in the footsteps of her parent line, as she offers a pure Indica feel, with deep relaxation, good potency and a long lasting high. Critical + 2.0 Auto is an ideal cannabis strain for relaxing after a hard day's work, or just going with the flow. Critical + 2.0 Auto cannabis seeds will offer you very pleasant and relaxing moments of escape. An Indica auto cannabis plant of incomparable quality...
Growing tips:
Critical + 2.0 Auto is a cannabis hybrid that has become very popular over the years, as it is easy to grow. You only need a few precautions, namely: - a large pot size from start to finish (between 14 and 20 L); - an aerated substrate (add 30% coconut fibre to your soil mix) - frequent watering, but in small quantities; - Moderate fertilisation (as is the case with the vast majority of automatic cannabis strains on the market). When grown outdoors, the Critical + 2.0 Auto collection cannabis seed prefers a rather dry, warm and sunny climate.
Автоцветущие феминизированные:auto/fem.
Период цветения:70-80 дней от семени
Соотношение Indica / Sativa:75% Indica / 25% Sativa
THC:15-20%
CBD:0,01-0,2%
Генетика:Critical + Auto x Critical +
Период сбора урожая при выращивании на открытом воздухе под солнцем (outdoor):с раннего Апреля до позднего Октября
Высота при уличном выращивании (см.):0,6-1,3 метра
Урожайность Indoor:500 грамм с квадратного метра при лампах HPS 600W
Урожайность Outdoor:100-300 грамм с куста
Выращивание:Indoor, Outdoor
3 fem. (0)
5 fem. (0)
10 fem. (0)