Seedsman - Zkittlez Auto (auto/fem.)
08412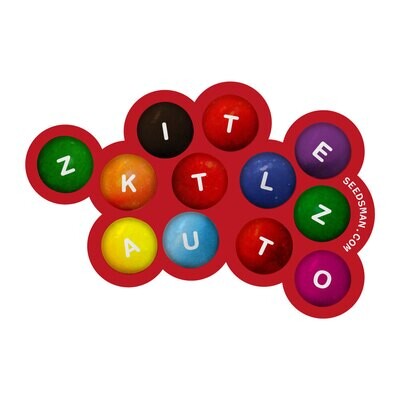 Seedsman
Price :
53.95
EUR
In stock
Zkittlez Auto
Zkittlez Auto is one of the very sweetest-tasting auto strains available anywhere. It is a sativa-dominant strain bred from Zkittlez (Grape x Grape Apple) crossed with a male Fruit Auto, itself a remarkable fruity strain bred from Fruit Cheese Auto and Blueberry Auto. Growers can expect to harvest some large yields of high-THC level buds.
How Zkittlez Auto Grows:
Zkittlez Auto remains a relatively short plant, rarely exceeding 100 cm. in height wherever it is grown. This is a vigorous plant that can digest a high level of nutrients, and she's a thirsty girl too! If growing indoors close to other plants, it is strongly advised to ensure sound and effective carbon air filtration to contain powerful smells. This strain's life cycle is approximately 75 days from seed to harvest.
The leaves on this plant are big and wide, serving to convert every lumen available into Zkittlez goodness. Lateral branching is excellent, and it's recommended to use supports/ties to prevent snapping and keep buds close to the light source.
Zkittlez Auto Taste, Smell and Effect:
This strain's scent is fruity with lemon and blueberry alongside petrol notes; the taste is like candied berries. Its high-THC effect is well-balanced, being very good for social situations and relaxing in front of the TV either alone or with company. It also has the added effect of helping to relieve chronic pain.
Автоцветущие феминизированные:auto/fem.
Соотношение Indica / Sativa:Преобладает Sativa
THC:25%
CBD:0-1%
Генетика:Zkittlez (Grape x Grape Apple) x Auto Fruit (Auto Fruit Cheese x Auto Blueberry)
Высота:70-120 см.
Эффект:Счастливый, голод, мотивирующий, разговорчивый, воодушевляющий
Урожайность Indoor:400-500 грамм/м2
Урожайность Outdoor:800 грамм с куста
Выращивание:Indoor, Outdoor, Greenhouse
Вкус:Ягодный, конфетный, дизельный, виноградный, сладкий
Сорт подходит для использования в медицине:Депрессия, бессонница, отсутствие аппетита, тошнота, боль
1 fem. (0)
3 fem. (0)
5 fem. (0)
10 fem. (0)