Seedsman - The White OG (fem.)
08409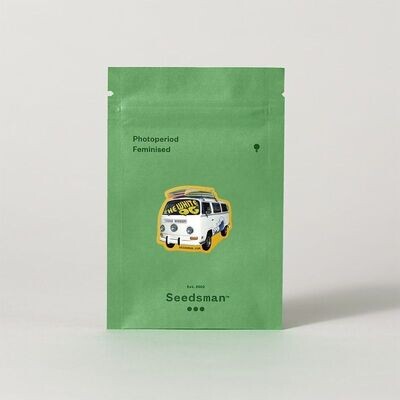 Seedsman
Price :
17.95
EUR
In stock
The White OG
The White OG is a new Seedsman variety, bred from two immensely popular strains in the American market; OG Raskal and the Cannabis Cup-winning Rolex OG.
How The White OG Grows:
While this strain may be short in stature, she offers a decent yield of uniquely hard buds and phenomenal resin production. This strain takes around nine weeks to flower and is suitable for all environments and grow media.
The White OG Taste, Smell, and Effect :
The White OG is everything you would expect a Kush strain to be; intense, spicy, and earthy, with notes of pepper, lemon, and diesel in terms of taste and aroma.
She also offers the heavily sedative but enjoyable effects associated with its Kush genetics and boasts THC levels up to 24%.
Holding all the traits of a classic, pure Kush strain, The White OG is an essential addition to your collection this year.
Феминизированные:fem.
Период цветения:60-65 дней
Соотношение Indica / Sativa:Преобладает Indica
THC:20-24%
CBD:0.06%
Генетика:The White Corte Croma x Rolex OG
Эффект:Телесный, церебральный, физический, мощный, расслабляющий
Сбор урожая (outdoor):поздний Сентябрь - ранний Октябрь
Урожайность Indoor:500 грамм/м2
Урожайность Outdoor:700 грамм с куста
Выращивание:Indoor, Outdoor
Вкус:Дизель, топливо, лимон
Сорт подходит для использования в медицине:Снятие боли
1 fem. (0)
3 fem. (0)
5 fem. (0)
10 fem. (0)