Seedsman - Peyote Wi-Fi (fem.)
08401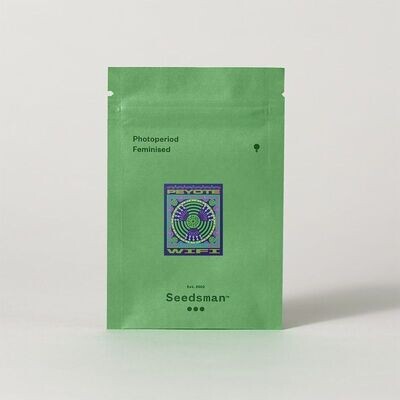 Seedsman
Price :
53.95
EUR
In stock
Peyote Wi-Fi
Peyote Wi-Fi is an indica-dominant cross of Wi-Fi (The White x Fire OG) and Peyote Purple (selected Bubba Kush phenotype). It has a typically indica structure and is a medium-sized plant with big, broad leaves which produces large crops both indoors and outdoors. It boasts very high THC levels and is a big resin producer.
How Peyote Wi-Fi Grows:
When grown indoors, give these plants a vegetative growth period of between 15 - 25 days before switching to a 12/12 lighting schedule to induce flowering, which takes a further 75 days. Indoor yields are very good at between 500 - 650 gr/m2. Outdoors its longer flowering time will make it much more suitable for warmer climate regions, although a greenhouse will extend the zone of cultivability; yields in this environment can be as high as 1500 gr/m2.
What Peyote Wi-Fi Tastes, Smells and Feels Like:
The scent is sour, lemon/lime with diesel notes, while the taste of the buds is somewhat earthy with diesel fuel notes. THC production is exceptionally high at between 20 - 26%, while CBD levels remain below 1%. It is a highly potent strain and one which will lend itself well to physical relaxation. High resin production makes this a perfect strain from which to make cannabis extracts and concentrates.
Феминизированные:fem.
Период цветения:75 дней
Соотношение Indica / Sativa:Преобладает Indica
THC:20-26%
CBD:<1%
Генетика:Wi-Fi (The White x Fire OG) x Peyote Purple
Эффект:Физический, расслабляющий, сильный
Урожайность Indoor:500-650 грамм/м2
Урожайность Outdoor:1500 грамм с куста
Выращивание:Indoor, Outdoor, Greenhouse
Вкус:Дизель, земляной, топливный
1 fem. (0)
3 fem. (0)
5 fem. (0)
10 fem. (0)