Seedsman - Peyote Gorilla (fem.)
08399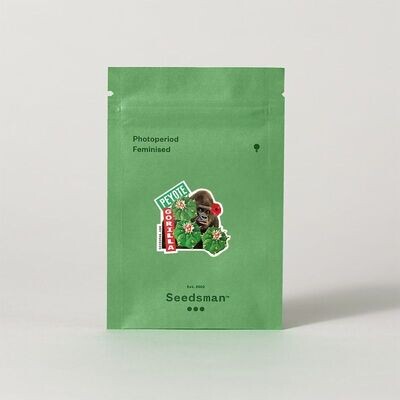 Seedsman
Price :
53.95
EUR
In stock
Peyote Gorilla
Peyote Gorilla is a cross of Gorilla Glue #4 (Chem Sister x Chocolate Diesel) and Peyote Purple, a bright, vibrant phenotype of Bubba Kush. The potent, medicinal effect of the Gorilla meets the stimulating and uplifting high of the Peyote Purple.
How Peyote Gorilla Grows:
With a flowering time of around 70 days, Peyote Gorilla has a typically indica structure, medium-sized with large, broad leaves. Yields are excellent; indoors , growers can expect to yield between 500 - 650 gr/m2, while outdoors, as much as 1500 gr/m2 can be produced. Resin levels are very high, which means that it is very suitable for making extracts and concentrates.
Peyote Gorilla Taste, Smell, and Effect:
This strain's scent is sour with lemon, petrol, earthy, and woody notes, and these properties are reflected in the taste. THC production is very high at between 22 - 26%, with CBD at just 1%. The effect is a very potent, uplifting one that gradually evolves into a physically relaxing state that will be almost certain to ease any aches and pains.
Феминизированные:fem.
Период цветения:70 дней
Соотношение Indica / Sativa:Преобладает Indica
THC:22-26%
CBD:1%
Генетика:Gorilla Glue #4 (Chem Sister x Chocolate Diesel) x Peyote Purple (Bubba Kush purple pheno)
Высота:80-160 см.
Эффект:Эйфоричный, мощный, расслабляющий, бодрящий
Сбор урожая (outdoor):Сентябрь
Урожайность Indoor:400-600 грамм/м2
Урожайность Outdoor:1500 грамм с куста
Выращивание:Indoor, Outdoor
Вкус:Ягодный, землистый, фруктовый, бензиновый, сладкий
Сорт подходит для использования в медицине:Усталость, бессонница, боль, стресс
1 fem. (0)
3 fem. (0)
5 fem. (0)
10 fem. (0)