Seedsman - Lemonchello Haze (fem.)
08397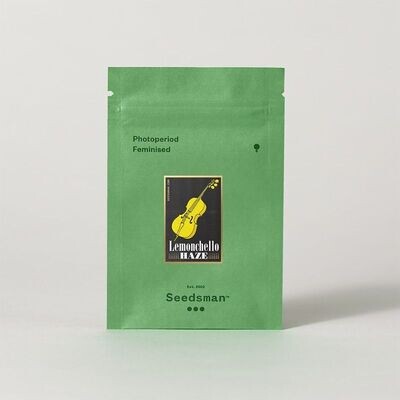 Seedsman
Price :
49.95
EUR
In stock
Lemonchello Haze
As its name suggests, Lemonchello Haze has a flavour similar to that of the traditional Italian drink combined with an immediately recognisable haze aroma.
For over a year and a half, our breeders had been searching for the perfect Super Lemon Haze strain to cross with an Amnesia.
Eventually finding the chosen strain from a breeder in Sicily, the Italian reference in this strain's name is a nod to the creator of the flawless mother plant.
Lemonchello Haze grows very tall, produces a large yield and is relatively easy to cultivate, despite its impressive stature.
In terms of effects, Lemonchello Haze offers extremely pleasant euphoric sensations almost immediately. She takes around 9 weeks to flower and is suitable for all environments and grow media.
Феминизированные:fem.
Период цветения:65 дней
Соотношение Indica / Sativa:Преобладает Sativa
THC:15-20%
CBD:0-1%
Генетика:(Super Lemon Haze x Amnesia) x UK Cheese
Высота:до 300 см.
Эффект:Эйфоричный
Сбор урожая (outdoor):Октябрь
Урожайность Indoor:до 600 грамм/м2
Урожайность Outdoor:до 800 грамм с куста
Выращивание:Indoor, Outdoor
Вкус:Лемон
1 fem. (0)
3 fem. (0)
5 fem. (0)
10 fem. (0)