Seedsman - Jack Herer (fem.)
08395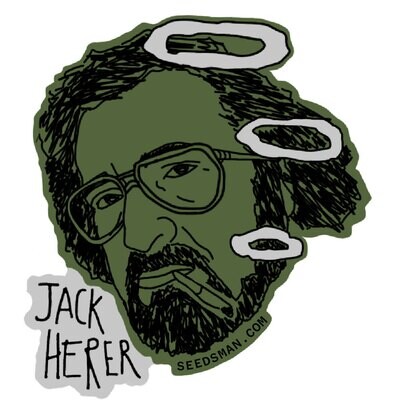 Seedsman
Price :
44.95
EUR
In stock
Jack Herer
The Jack Herer strain was named in tribute to the late cannabis activist, polemicist and author of the all-time classic "The Emperor Wears No Clothes". It has become established as something of a classic marijuana strain itself combining the out-there euphoric, cerebral effect of a pure Sativa strain with the resin-producing qualities of a pure Indica. It was originally created by Sensi Seeds by crossing a Haze with a Northern Lights #5 x Shiva Skunk cross.
How Jack Herer Grows:
Due to the existence of several phenotypes, flowering may take anywhere between 50 and 70 days.
Jack Herer Taste, Smell, and Effect:
Jack Herer has a sweet, peppery taste. THC production is high at a minimum of 18% right up to 23%. One thing is certain, however – no matter which phenotypes develop, the effect will be clear and creative with outbreaks of euphoria likely.
Феминизированные:fem.
Период цветения:9 недель
Соотношение Indica / Sativa:Гибрид Indica и Sativa
THC:18-23%
Генетика:Original Haze x Red Skunk
Высота:до 175 см.
Эффект:Эйфория
Сбор урожая (outdoor):Октябрь
Урожайность Indoor:350-450 грамм/м2
Выращивание:Indoor, Outdoor, Greenhouse
1 fem. (0)
3 fem. (0)
5 fem. (0)
10 fem. (0)