Seedsman - Fuel D.OG (fem.)
08389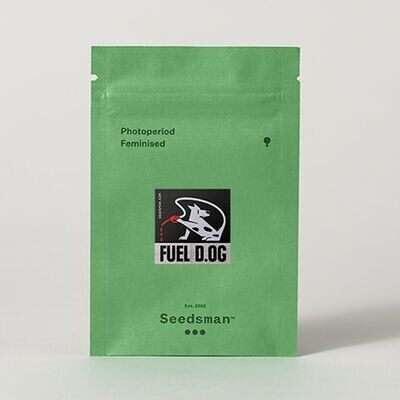 Seedsman
Price :
49.95
EUR
In stock
Fuel D.OG
Fuel D.OG was bred by crossing two highly celebrated and popular strains from the USA - Chemdog (Sour Diesel x OG Kush) and Fuel OG (|Diesel x HeadBand). Fuel D.OG is a 70% sativa, 30% indica plant with excellent potential yields indoors and outdoors. Resin and THC production is also at a very high level.
Fuel D.OG improves on Chemdog, being a much more robust plant with a much more intense taste while also developing more oversized calyxes than Chemdog.
How Fuel D.OG Grows:
This is a very forgiving strain and therefore quite suitable for the less experienced grower. Its rugged appearance is typified by a thicker central stem that is so strong that it does not need to be supported during the later flowering stage despite the degree of sativa stretch it undergoes once flowering has begun. In vegetative growth the leaves have the appearance of indica-type foliage, thicker with 7 - 11 overlapping blades. During veg. plants exude a softly citric scent with notes of fuel and Skunk. Large spear-shaped buds surround the main stem like a crown. Outdoor cultivation produces plants that can grow up to 350 cm. tall in optimum conditions.
When cultivated indoors, Fuel D.OG produces yields of 450 - 600 gr/m2 in a 65 - 70 day flowering period, with generous quantities of resin already noticeable in the developing buds during the third week. Its height can be controlled indoors by switching to the flowering light schedule once plants are established and/or using the SCRoG technique, whereby plants are trained horizontally. Outdoors, each plant can yield 700 - 800 gr. of large, sticky buds with harvests in the northern hemisphere ready at the beginning of October. Its large trichomes, the concentration of terpenes, and the sheer quality of resin make this a very serious proposition for extract/concentrate makers.
Buds are extremely dense and are initially dark green but fade to a lighter yellow / lime green towards maturity. Peak nutrient uptake is during week 6 of florescence, and these plants are hungry feeders, after which feeding should be tapered off with a flush in the final week. Dried and cured buds display great solidity and develop large calyxes.
Fuel D.OG Taste, Smell, and Effect:
Fuel D.OG has a more intense OG Kush taste than the Chemdog parent, with increased diesel emphasis and a strong pine flavour with citric, lemon, and grapefruit notes. It has a rather Skunky / garlic nose and this is detectable on the palate in the aftertaste. THC content is very high with low proportions of CBD. The effect experienced by consumers is one of intense relaxation evolving into a long-lasting narcotic stone that makes Fuel D.OG more suitable for evenings unless there are absolutely no crucial tasks to be completed.
Феминизированные:fem.
Период цветения:65-70 дней
Соотношение Indica / Sativa:Преобладает Sativa
THC:>20%
CBD:<1%
Генетика:Chemdog (Sour Diesel x OG Kush) and Fuel OG (Diesel x HeadBand)
Высота:до 350 см. при уличном выращивании
Эффект:Мощный, расслабляющий, успокаивающий, кайф
Сбор урожая (outdoor):начало Октября
Урожайность Indoor:450-600 грамм/м2
Урожайность Outdoor:700-800 грамм с куста
Выращивание:Indoor, Outdoor
Вкус:Цитрус, дизель, грейпфрут, лимон
1 fem. (0)
3 fem. (0)
5 fem. (0)
10 fem. (0)