Seedsman - Doctor Seedsman CBD 30:1 (fem.)
08388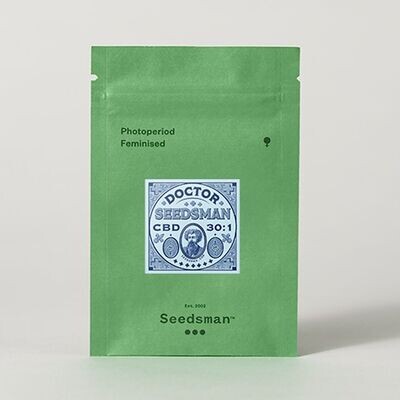 Seedsman
Price :
49.95
EUR
In stock
Doctor Seedsman CBD 30:1
Doctor Seedsman CBD is the crowning achievement resulting from a long and diligent effort to discover a strain of cannabis with very high levels of CBD but less than 1% THC, resulting in healing effects without any psychoactivity. Many CBD-rich strains have been created, but up until now the vast majority have virtually equal amounts of CBD and THC.
Doctor Seedsman CBD is 80% sativa and is descended from a plant that its breeders named CBD Asia due to its provenance and high CBD levels. This amazing plant didn't even need the usual inbreeding in order to both accentuate and preserve its desirable traits.
How Doctor Seedsman CBD 30:1 Grows:
It is a robust plant, growing vigorously yet staying quite short and squat in the process. Indoor flowering lasts for 8 - 9 weeks, while outdoor harvests should be ready in early October in northern latitudes. Yields are high and the buds are nice and dense, covered with loads of resin.
Doctor Seedsman CBD 30:1 Taste, Smell and Effect:
This plant is very aromatic but non-psychoactive. It has a powerful and penetrating taste with a pine and ginger note on the finish. CBD production has been laboratory tested at 20% while THC comes in at less than 1%, representing a CBD: THC ratio in excess of approximately 30:1. The effect is deeply relaxing to the body with no cerebral effects whatsoever.
Феминизированные:fem.
Период цветения:56-63 дней
Соотношение Indica / Sativa:Преобладает Sativa
THC:<1.0%
CBD:20%
Генетика:Asian CBD strain
Эффект:Успокаивающий, расслабляющий, смягчающий
Сбор урожая (outdoor):ранний Октябрь
Выращивание:Indoor, Outdoor
Вкус:Имбирь, сосна
Сорт подходит для использования в медицине:Медицинский сорт
1 fem. (0)
3 fem. (0)
5 fem. (0)
10 fem. (0)