Seedsman - Diet Durban THCV:THC 1:1 (fem.)
08387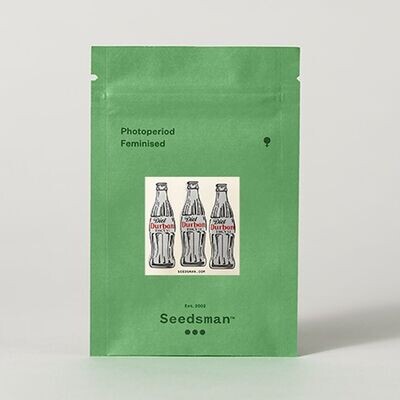 Seedsman
Price :
77.95
EUR
In stock
Diet Durban THCV:THC 1:1
Diet Durban THCV 1:1 is an example of a new trend for novel cannabinoid strains that emphasise the production of some lesser-known cannabinoids. In this case THCV is the cannabinoid in question and one that is produced in higher amounts in equatorial sativa strains. Diet Durban THCV:THC produces equal amounts of both THCV and THC with approximately 7% of each.
Although Diet Durban THCV 1:1 performs extremely well outdoors its later harvest time towards the end of October means that growers will need to be sure that the autumn weather will remain fine and sunny until then if the crop is not to be ruined unless a greenhouse is used thereby extending the range of cultivability. Indoor growers will be able to harvest after 8 - 10 weeks of flowering. Yields are very high.
The scent and taste are pine-focused, like a walk amongst the conifers, with some citrus notes. The THCV:THC ratio is 1:1 with a total of approximately 14% of those two cannabinoids combined along with around 2% CBD. Together they produce a highly lucid, stimulating, cerebral effect that also acts as an appetite-suppressant.
Феминизированные:fem.
Период цветения:56-70 дней
Соотношение Indica / Sativa:Sativa
THC:14%
CBD:2%
THCV:14%
Генетика:Secret
Эффект:Церебральный, осознанный, стимулирующий
Сбор урожая (outdoor):конец Октября
Выращивание:Indoor, Outdoor, Greenhouse
Вкус:Цитрус, сосна
1 fem. (0)
3 fem. (0)
5 fem. (0)
10 fem. (0)