Seedsman - C99 x Blueberry FAST (fem.)
08382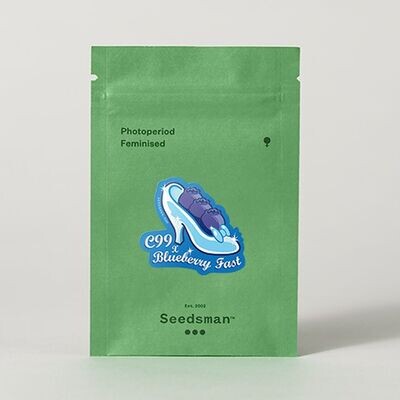 Seedsman
Price :
44.95
EUR
In stock
C99 x Blueberry FAST
C99 x Blueberry Fast is a quick-flowering sativa-dominant hybrid marijuana strain. Its parents are Cinderella 99, Blueberry and a Fast parent plant.
How C99 x Blueberry FAST grows:
Due to the significant amount of stretch, it undergoes once flowering is initiated, cramped growing spaces are to be avoided. In just 45 days, yields of between 350 - 450 gr/m2 of high-THC, resinous buds will be harvested. Outdoor yields are ready during September and are even bigger whether grown in the ground or in a greenhouse. Its buds have relatively few larger leaves and this makes trimming very easy.
C99 x Blueberry Taste, Smell, and Effect:
Due to the high proportion of Thai Sativa genetics in this hybrid, the taste of South East Asia comes through strongly. 
Феминизированные:fem.
Период цветения:6-7 недель
Соотношение Indica / Sativa:Гибрид Indica и Sativa
THC:15-20%
Генетика:Cinderella 99 x Blueberry x Fast
Высота:80-140 см.
Сбор урожая (outdoor):Сентябрь
Урожайность Indoor:350-450 грамм/м2
Выращивание:Indoor, Outdoor, Greenhouse
1 fem. (0)
3 fem. (0)
5 fem. (0)
10 fem. (0)