Seedsman - Bruce Banger (fem.)
08381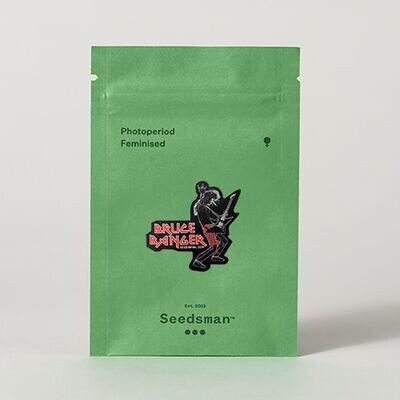 Seedsman
Price :
49.95
EUR
In stock
Bruce Banger
With powerfully euphoric effects, unrivalled flavours and dense nugs that pack a real punch, it is no wonder that this strain variety is one of the most popular in the world today.
Seedsman's very own Bruce Banger is bred from an Original OG Kush and a Strawberry Diesel. The strain holds a classic diesel aroma from its Strawberry parent, while retaining the exhilarating effects of its Kush lineage.
A sativa dominant strain, Bruce Banger is appropriate for daytime use; once the initial hit of power disappears, the user is left with a creative buzz that can last for hours.
Bruce Banger flowers at between 9 to 10 weeks and is suitable for all environments and grow media.
This immensely popular and in-demand strain is not to be missed!
Феминизированные:fem.
Период цветения:65-70 дней
Соотношение Indica / Sativa:Преобладает Sativa
THC:15-20%
CBD:0-1%
Генетика:Original OG Kush x Strawberry Diesel
Эффект:Креативный, тонизирующий
Выращивание:Indoor, Outdoor
1 fem. (0)
3 fem. (0)
5 fem. (0)
10 fem. (0)