Seedsman - Bruce Banger FAST (fem.)
08380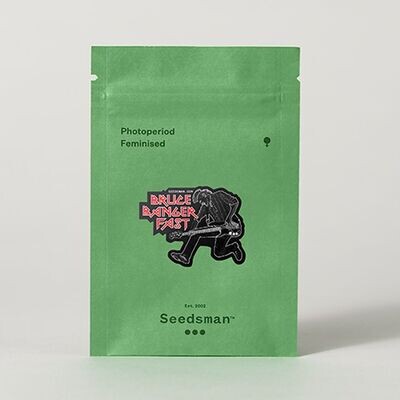 Seedsman
Price :
49.95
EUR
In stock
Bruce Banger FAST
With powerfully euphoric effects, incredible taste, and dense nugs that pack a real punch, it's no wonder this strain is one of the most popular in the world today. This FAST version has been bred from selected earlier-finishing plants.
How Bruce Banger FAST grows:
Bruce Banger Fast flowers at 9 weeks, or a day or so longer, and is suitable for all environments and grow media.
What Bruce Banger FAST smells, tastes, and feels like:
Seedsman's very own Bruce Banger is bred from an Original OG Kush and a Strawberry Diesel. The strain holds a classic diesel aroma from its Strawberry parent while retaining the exhilarating effects of its Kush lineage. A sativa-dominant strain, Bruce Banger is appropriate for daytime use; once the initial hit of power disappears, the user is left with a creative buzz that can last for hours.
This immensely popular and in-demand strain is not to be missed!
Феминизированные:fem.
Период цветения:60-65 дней
Соотношение Indica / Sativa:Преобладает Sativa
THC:15-20%
CBD:0-1%
Генетика:Original OG Kush x Strawberry Diesel
Эффект:Креативный, тонизирующий
Выращивание:Indoor, Outdoor
1 fem. (0)
3 fem. (0)
5 fem. (0)
10 fem. (0)