Seedsman - Blueberry (fem.)
08379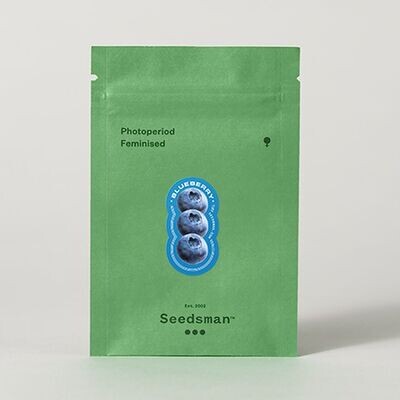 Seedsman
Price :
44.95
EUR
In stock
Blueberry
Blueberry was created by Canadian DJ Short and dates back to the 1970s. It is a 3-way Indica-dominant hybrid cross of an Afghani strain together with Thai and a Purple Thai. 
How Blueberry Grows:
When grown in good conditions it can grow into a fairly large plant displaying a range of red, purple, and blue tones, producing very good yields.
Blueberry Taste, Smell, and Effect:
Unsurprisingly, when fully cured, Blueberry has an incredibly fruity perfume along with the unmistakable sweet taste of blueberries. The effect is a very potent yet happy one, which is euphoric yet relaxing and enduring. Another quality of Blueberry is that, although taking a while to cure out, when correctly prepared and packaged, it has a long shelf-life compared with many strains available today.
Феминизированные:fem.
Период цветения:8-9 недель
Соотношение Indica / Sativa:Преобладает Indica
THC:19,5%
Генетика:Blueberry
Высота:до 225 см.
Эффект:Долгий
Сбор урожая (outdoor):Октябрь
Урожайность Indoor:400-600 грамм/м2
Выращивание:Indoor, Outdoor, Greenhouse
Вкус:Ягодный, черника
1 fem. (0)
3 fem. (0)
5 fem. (0)
10 fem. (0)