Seedsman - Black Sugar (fem.)
08377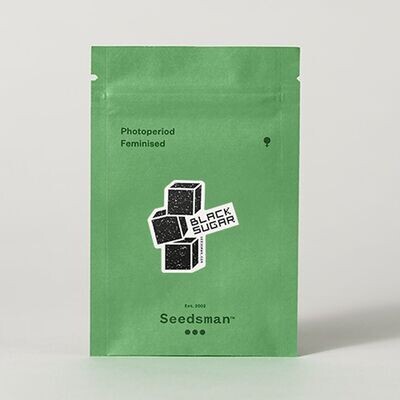 Seedsman
Price :
49.95
EUR
In stock
Black Sugar
A cross between a powerful indica, a potent medical strain, and a modern classic, Black Sugar retains all of the best characteristics of its parents.
From its Black Domina line, this strain maintains an incomparable relaxing effect and fast flowering traits.
From its LA OG parent, Black Sugar offers potency and potential therapeutic benefits.
How Black Sugar Grows:
Black Sugar plant retains its short stature from its Critical lineage, making it an ideal strain for indoor or limited space cultivation.
However, what Black Sugar lacks in stature, she more than makes up for in yield – where she can reach up to 600gr/m2.
Black Sugar Taste, Smell and Effect:
With an intensely fruity aroma and dense bus covered in crystals, Black Sugar is a high-THC strain that you need to try ASAP.
Феминизированные:fem.
Период цветения:50-55 дней
Соотношение Indica / Sativa:Преобладает Indica
THC:20%+
CBD:0-1%
Генетика:Black Domina x L.A OG x Critical
Высота:до 300 см.
Эффект:Телесный, физический, мощный, расслабляющий, седативный
Сбор урожая (outdoor):поздний Сентябрь - ранний Октябрь
Урожайность Indoor:600 грамм/м2
Выращивание:Indoor, Outdoor
Вкус:Фрукты, лимон, апельсин
Сорт подходит для использования в медицине:Да. Отличное средство от бессонницы
1 fem. (0)
3 fem. (0)
5 fem. (0)
10 fem. (0)