Seedsman - Alaskan Purple (fem.)
08371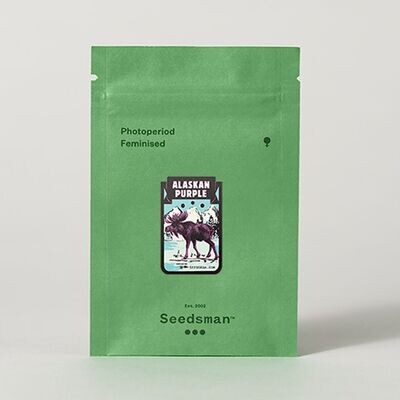 Seedsman
Price :
49.95
EUR
In stock
Alaskan Purple
Alaskan Purple has some fine heritage, having been bred by crossing Purple Alaskan, Kush, and a Brazilian sativa strain. Highly vigorous strain, adaptable to various cultivation techniques, excellent yields, and displaying lovely purple hues at maturity.
This 3-way hybrid strain is an excellent addition to the Seedsman range of fem cannabis seeds. Alaskan Purple is a highly adaptable strain which lends itself to so many diffferent techniques whether grown in a SoG, SCRoG, LST, super-cropping, apical topping or surprise the neighbours with its sheer size outdoors!
How Alaskan Purple Grows:
Flowering indoors takes approximately 9 weeks after which a yield of around 550 gr/m2 should be obtained. When grown outdoors in the northern hemisphere yields should be in the region of 1700 gr/plant with harvest time occurring during the first half of October.
Alaskan Purple Taste, Smell, and Effect:
Both scent and taste are reminiscent of sweet berries with some floral notes too. This is a potent strain with a high THC content and Kush power. It is relaxing for the body and a long-lasting effect which is lifted somewhat by the presence of the Brazilian sativa genetics which add a cerebral, psycho-active note.
Феминизированные:fem.
Период цветения:63 дня
Соотношение Indica / Sativa:Преобладает Indica
THC:15-20%
Генетика:Alaskan Purple x Kush x Brazilian Sativa
Эффект:Телесный, церебральный, долгий, расслабляющий, сильный
Сбор урожая (outdoor):1 половина Октября
Урожайность Indoor:550 грамм/м2
Урожайность Outdoor:1700 грамм с куста
Выращивание:Indoor, Outdoor
Вкус:Ягодный, цветочный, фруктовый, сладкий
1 fem. (0)
3 fem. (0)
5 fem. (0)
10 fem. (0)