Seedsman - Alaskan Purple Auto (auto/fem.)
08370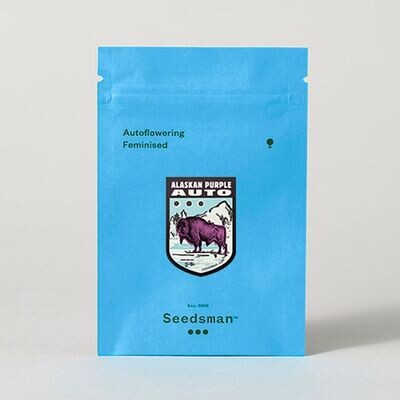 Seedsman
Price :
49.95
EUR
In stock
Alaskan Purple Auto
Alaskan Purple Auto is a 90% indica strain producing some very attractive yields in a short space of time. It has a sweet, fruity taste and a very nice relaxing high.
How Alaskan Purple Auto Grows:
Alaskan Purple Auto is a sizeable plant for an auto with yields to match. Indoors its life cycle is around 8 weeks with some examples coming in at around the 7-week mark. Indoor yields are in the range of 400 - 550 gr/m2. When grown outdoors harvest time will be approximately one week later with each plant capable of producing between 40 - 200 gr. depending on local conditions.
Автоцветущие феминизированные:auto/fem.
Период цветения:49-63 дня от семени
Соотношение Indica / Sativa:Преобладает Indica
THC:15-20%
Генетика:Alaskan Purple x Ruderalis
Эффект:Телесный, расслабляющий.
Урожайность Indoor:400-550 грамм с квадратного метра (при лампах HPS 600W)
Урожайность Outdoor:40-200 грамм с куста
Выращивание:Indoor, Outdoor, Greenhouse
Букет ароматов:Фруктовый, сладкий
1 fem. (0)
3 fem. (0)
5 fem. (0)
10 fem. (0)