Humboldt Seed Company - Trainwreck Auto (auto/fem.)
07872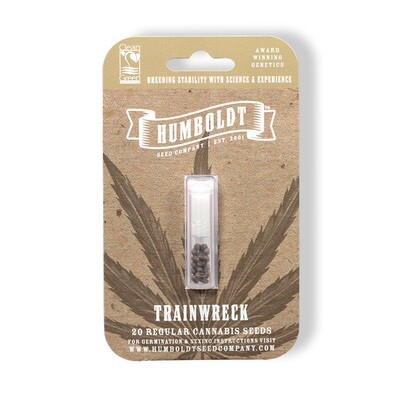 Humboldt Seed Company
Trainwreck Auto
Legendary Strain
Trainwreck is a vigorous plant that has incredible production. It has an extremely wide growth pattern which makes this strain ideal for the grower with height limitations. It has a huge production of lime green strong smelling buds with incredible mold resistant and a low maintenance plant structure. It gets its sweet turpentine smell from high levels of Terpinolene which has reported an anti-microbial and strong tranquilizing effects.
Strain Benefits:
30% Indica 70% Sativa
Vigorous plant with incredible production
Extremely wide growth pattern good for growers with height limitations
Dense, lime green, sticky buds
Incredible mold-resistant and low maintenance plant structure
Sweet and sappy smell
Potent pain-relieving medicinal
High levels of Terpinolene, a reported anti-microbial, tranquilizer
Video:
Бренд:
Humboldt Seed Company
Бренд:
Humboldt Seed Company
Автоцветущие феминизированные:auto/fem.
Период цветения:75-90 дней
5 fem. (0)
10 fem. (0)