Humboldt Seed Company - The Bling (fem.)
07868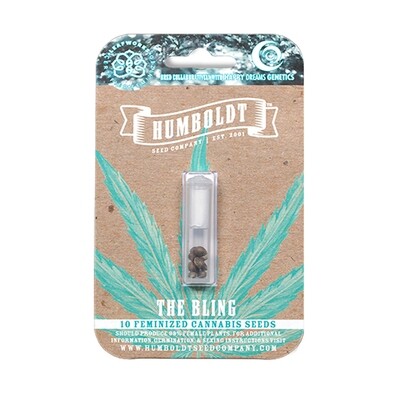 Humboldt Seed Company
The Bling
Original strain
Diamonds may be a girl's best friend, but The Bling will be your farm's best bud. Productive is an understatement and the trichome density on this beauty outshone 3k unique plants in a greenhouse at Happy Dreams Farm. Happy Dreams and HSC collaborated on this cross from the gate, and Happy Dreams' Mr. D put a ton of work and sacrifice into this strain. A productive, fast-growing, pest/mold resistant plant boasting insane trichomes and a heavy dose of THC, The Bling is a great sure-fire strain.
Strain Benefits:
Gassy, sweet & floral, hints of lime
75% Indica 25% Sativa
Vigorous Producer
Бренд:
Humboldt Seed Company
Феминизированные:fem.
Соотношение Indica / Sativa:75% Indica / 25% Sativa
Период цветения при искусственном выращивании под лампами (indoor):60 дней
Период сбора урожая при выращивании на открытом воздухе под солнцем (outdoor):5 - 20 октября
5 fem. (0)
10 fem. (0)