Humboldt Seed Company - Mountaintop Mint (fem.)
07860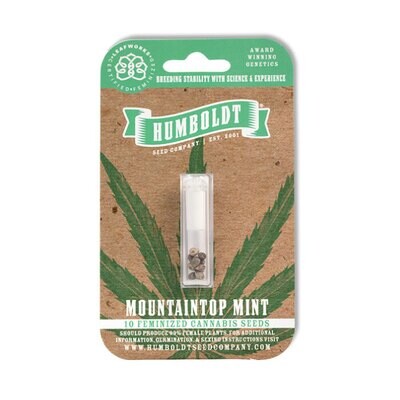 Humboldt Seed Company
Mountaintop Mint
Original Strain
We are known for a stabilized seed that produces uniform plants which all have terpenes fitting for their strain names. Mountaintop Mint is a relatively new genetic for us that performed so well in 2019 that we elevated it to a full breeding effort in 2020. Expect insane mint terpenes that you never thought would be present in cannabis and a mind-numbing knock out effect. Terpenes and trichome density came together in this strain and had us thinking of snowy Swiss Alps, reminiscent of Ricola ads and cool minty freshness. High THC and long flowering cycle make for productive plants that will go a long way towards your cannabis EnjoyMint.
Strain Benefits:
50% Indica 50% Sativa
Average THC 26%-30%
Spearmint with a skunky finish
Video:
Бренд:
Humboldt Seed Company
Феминизированные:fem.
Соотношение Indica / Sativa:50% Indica / 50% Sativa
THC:26-30%
Период цветения при искусственном выращивании под лампами (indoor):70 дней
Период сбора урожая при выращивании на открытом воздухе под солнцем (outdoor):5 - 20 октября
5 fem. (0)
10 fem. (0)