Humboldt Seed Company - Humboldt Sour Diesel (fem.)
07857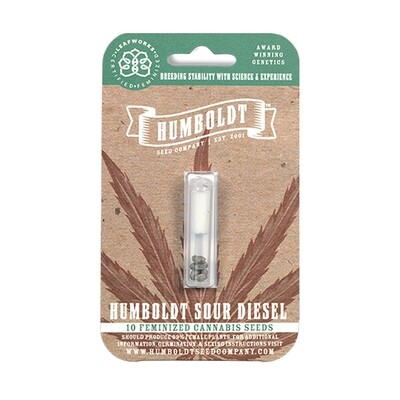 Humboldt Seed Company
Humboldt Sour Diesel
Original Strain
Bred by Humboldt Seed Company, Humboldt Sour Diesel is produced by crossing Sour Diesel Bx3 and Humboldt Headband. It consistently grows dense green buds with a gassy flavor that resembles that of the classic Sour Diesel. Providing a wonderfully euphoric high, Humboldt Sour Diesel is a great choice for anyone looking for some creative inspiration.
Strain Benefits:
Sativa Dominant
Easy to grow, will double in size during flower
Extremely dense flower structure
Expresses moderate mold resistance
Skunky orange cinnamon aroma
Video:
Бренд:
Humboldt Seed Company
Феминизированные:fem.
Соотношение Indica / Sativa:Преобладает Sativa
THC:20-24%
Период цветения при искусственном выращивании под лампами (indoor):65 дней
Период сбора урожая при выращивании на открытом воздухе под солнцем (outdoor):5 - 20 октября
5 fem. (0)
10 fem. (0)