Humboldt Seed Company - Family Jewels (fem.)
07852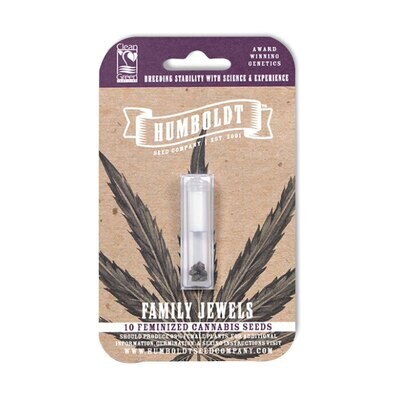 Humboldt Seed Company
Family Jewels
Original Strain
The trichomes are like a creamy coating of cannabinoids, and the terpene profile is equally rewarding and powerful. The underlying purple hues are beautiful whether grown indoors or out. Growth is somewhat wide and viney, but the stems are strong and once flowering begins the growth goes straight up producing ideal colas dripping with cannabinoids and likely rich in Cannaflavins. Everyone will want this vigorous, easy to grow, trichome covered anomaly for their grow and their pipes.
Strain Benefits:
20% Indica 80% Sativa
Uncanny Trichome Density
Uplifting and Energizing
Бренд:
Humboldt Seed Company
Феминизированные:fem.
Соотношение Indica / Sativa:20% Indica / 80% Sativa
Период цветения при искусственном выращивании под лампами (indoor):55 дней
Период сбора урожая при выращивании на открытом воздухе под солнцем (outdoor):25 сентября - 10 октября
5 fem. (0)
10 fem. (0)