Doctor's Choice - Lowryder (auto/fem.)
07524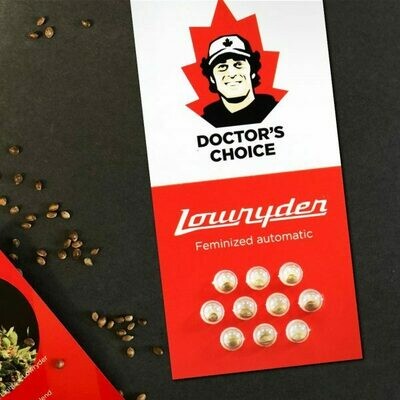 Doctor's Choice
Lowryder #2
LEGEND:
Lowryder (#2) Feminized is the constantly improved product of the Joint Doctor's quest to improve Lowryder's strength, yield and flavour while maintaining the unusual characteristics that made it so popular. Lowryder was infused with superior Santa Maria genetics, a variety known for copious resin production, exotic taste and soaring highs. The cross was subsequently selectively inbred for several generations. The result is an autoflowering dwarf that yields a stronger, head-turning smoke with intoxicating taste. No separate room or light cycle are needed to flower autoflowers.
ABOUT:
8-9 weeks from seed.
Suitable for: indoor, outdoor, greenhouse.
TOP 10 CANADIAN STRAINS – HIGH TIMES MAGAZINE (2010)
INDOOR:
Productivity: 150 g/m2 (600 W)
Height: 30 – 60 cm.
THC: Medium
OUTDOOR:
Productivity: 45-60 g/plant
Height: 30 – 60 cm.
FLAVOUR:
Автоцветущие феминизированные:auto/fem.
Генетика:Santa Maria x Lowryder
5 fem. (0)
10 fem. (0)