Big Buddha Seeds - Cheese Automatic (auto/fem.)
01646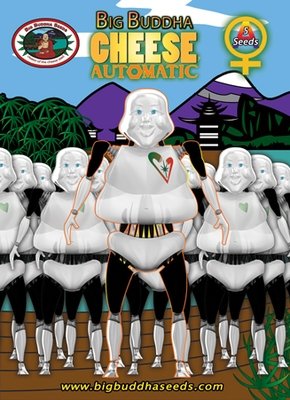 Big Buddha Seeds
Big Buddha Cheese Automatic
Leading the way in the development of autoflowering feminised genetics, we are proud to introduce the 'Big Buddha Cheese Automatic'
Our latest autoflowering strain is an ongoing project which has taken over 3 years to create an autoflowering feminised seed of our most popular multi award winning, world famous, Big Buddha Cheese!
Expect super-fast rapid growth from the moment you start...all throughout 'til harvest!
The Big Buddha Cheese Automatic is a spectacular plant with its' famous old skool skunk flavour and the comforting taste of the Big Buddha Cheese... truly a real dank lovers delight!

Big Buddha Cheese Automatic™...
...say Cheese? Now say 'I-Cheese'
Автоцветущие феминизированные:auto/fem.
Период цветения:75-90 дней от семени до сбора урожая
Соотношение Indica / Sativa:75% Indica / 25% Sativa
Генетика:Big Buddha Big Buddha Cheese X 3rd Generation Big Buddha Automatic (Reversed)
Эффект:Космический High
Урожайность Indoor:25+ грамм
Урожайность Outdoor:45+ грамм
Вкус:Фрукты и ягоды
5 fem. (0)
10 fem. (0)