Big Buddha Seeds - Blue Cheese Auto (auto/fem.)
00390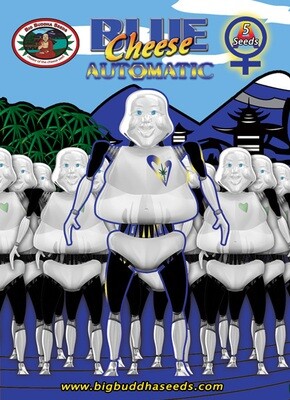 Big Buddha Seeds
Blue Cheese Automatic
Big Buddha's Cannabis Cup winning strain 'Blue Cheese' is undoubtedly a world renowned favourite of many cannabis aficionados. We used a selected high quality Blue Cheese clone from our experts in Amsterdam & used this famous coffeeshop clone to cross with our latest 3rd generation auto-flowering genetic line, to bring you the 'Blue Cheese Automatic'. Expect some super fast auto flowering growth throughout and when harvested produces super stoney, cheesy nuggets that are dense and compact... and laden with that famous Blueberry Cheese aroma now fully recognisable as a feminised autoflowering plant!
Winner Spannabis 2013 Best Hydro 1st Time ever an autoflowering strain has placed in this catergory!!!
think Cheese?……..think Fruity?….. Think Blue Cheese Automatic!!
Автоцветущие феминизированные:auto/fem.
Период цветения:75-90 дней от семени до харвеста
Соотношение Indica / Sativa:65% Indica / 35% Sativa
Генетика:Big Buddha Blue Cheese™ X 3rd Generation Big Buddha Automatic (Reversed)
Эффект:Космический, невероятный High
Урожайность Indoor:25+ грамм с куста
Урожайность Outdoor:45+ грамм с куста
Вкус:Фрукты и сыр
Запах:Blueberry старой школы
5 fem. (0)
10 fem. (0)