Barney's Farm - Triple Cheese (fem.)
02008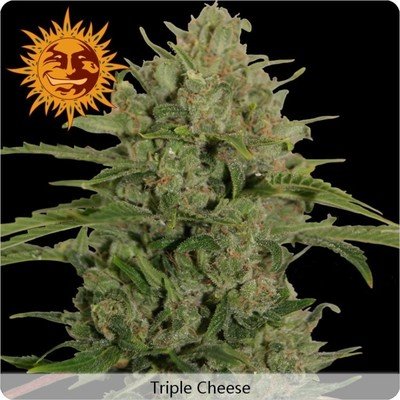 Barney'S Farm
Triple Cheese
Triple cheese is the crossing of our Blue Cheese with the powerful Original Cheese (Skunk#1 phenotype), created over many generations of selections and backcrossing to give this amazing strain. Triple Cheese is everything we wanted to create and more. But wait, it gets better; this plant is easy to grow and produces dense buds with a remarkable blueberry and Old Cheese taste. The undisputable dank cheese flavour dominates this strain, and packs a punch with THC levels regularly hitting over 22%!
Awards:
3rd for Best Extractions at Spannabis Champions Cup 2015
Video:
Феминизированные:+
Период цветения:60 дней
Соотношение Indica / Sativa:20% Sativa / 80% Indica
Урожайность:600 грамм с квадратного метра
THC:22%
CBD:1,2%
Генетика:Old Original Cheese X Blue Cheese
Высота:90-100 см.
Сбор урожая (outdoor):середина сентября
1 fem. (0)
3 fem. (0)
5 fem. (0)
10 fem. (0)