Barney's Farm - Cookies Kush (fem.)
02001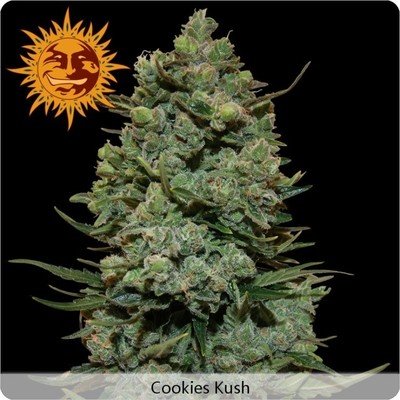 Barney'S Farm
Cookies Kush
GSC X OG Kush. The hottest new strain on the marijuana market. Cookies Kush has become a phenomenon.
The creation started using a specially selected Girl Scout Cookies pheno crossed with the very potent OG Kush (Rolex pheno).
From the outset the results were incredable. Back crossing continued to find the perfect balance of Kush with the best attributes of GSC. Powerful THC content, and with a flowering time of just under 60 days. Smells and tastes like a fresh baked cinammon roll with a nutty earthy after taste.
Cannabis Cup winner 2014.
Феминизированные:+
Сорт-чемпион:+
Период цветения:56-60 дней
Соотношение Indica / Sativa:30% Sativa / 70% Indica
Урожайность:650 грамм с квадратного метра
THC:24%
CBD:1.2%
Генетика:Girl Scout Cookies X Rolex OG Kush
Период сбора урожая при выращивании на открытом воздухе под солнцем (outdoor):конец сентября
1 fem. (0)
3 fem. (0)
5 fem. (0)
10 fem. (0)