Barney's Farm - Biscotti Mintz (fem.)
08011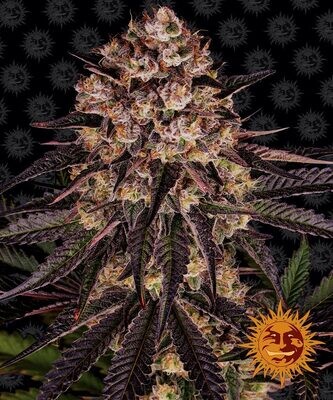 Barney'S Farm
Biscotti Mintz
Created for the real connoisseurs featuring two of the USA's premium and most elusive strains. The lab crossed Biscotti, already a world beating 80% Indica dominant specimen with our exclusive and delicious Mintz Phenotype. The results were stunning, the Cookies variant x OG Kush parentage provided the incredible potency and a flavour backbone, add the infusion of the creamy smooth Mintz genetics created this Mouth-watering new champion of a strain, a totally unique edition to our catalogue.
BISCOTTI MINTZ™ is predominantly a deep purple plant with trichome production off the scale, during the final day's leaves display a beautiful array of purples, oranges and greens wrapping the tightly formed bolder shaped dark green buds with bold purple highlights and long orange hairs. You will be astounded by its tantalising, lingering tastes, and aromas, kushy flavours with hints of chocolate chip cookies with creamy mint and spice. Distinctive Limonene, Caryophyllene, Eucalyptol terpenes come together to produce exceptionally appetizing aroma.
With BISCOTTI MINTZ™, discover a highly creative, focused, and relaxing effect with a noticeable and distinct creeping energizing body high.
Феминизированные:fem.
Период цветения:56-63 дней
Соотношение Indica / Sativa:80% Indica / 20% Sativa
THC:30%
Генетика:Biscotti x Mintz
Урожайность Indoor:до 650 грамм с квадратного метра при лампах HPS 600W
Выращивание:Indoor / Outdoor
1 fem. (0)
3 fem. (0)
5 fem. (0)
10 fem. (0)