Humboldt Seed Company - OG Kush (reg.)
07862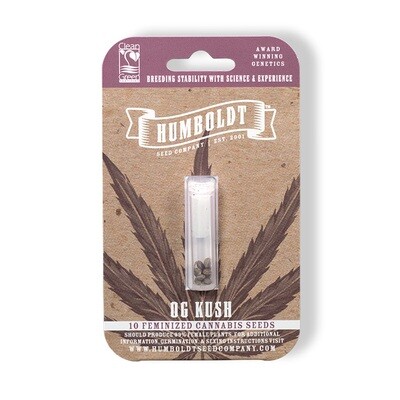 Humboldt Seed Company
OG Kush
Legendary Strain
OG Kush is easy to grow early. It is more productive than other OG phonemes, but with the same gassy smell. This is a powerful strain that won't leave you hanging when it comes to stem strength.
Strain Benefits:
70% Indica 30% Sativa
Easy to grow
Sturdier than other OG phonemes
Heady and powerfully relaxing
Video:
Бренд:
Humboldt Seed Company
Регулярные:reg.
Соотношение Indica / Sativa:70% Indica / 30% Sativa
Период цветения при искусственном выращивании под лампами (indoor):60 дней
Период сбора урожая при выращивании на открытом воздухе под солнцем (outdoor):1 - 15 октября
10 reg. (0)